Handyman Services You Can Rely On
Are you looking to:
1) Become less overwhelmed with balancing your job, family, and house maintenance?
2) Find a professional you can trust in your home and rely on long-term?
3) Keep your house looking its best?
If so, you've found the right place!
Hi, I'm Matt Perry – professional handyman and owner of That's Fixable, and helping busy homeowners with their home maintenance is what I do.
Whether you need a door fixed, a shelf hung on the wall, or just some general to-do's around the house – I have a wide range of skills and I'd be happy to help you.
I'm insured and ready to take care of your home – so you can sit back and enjoy it!
I'm not your typical handyman. I chose this line of work because I actually enjoy it, not because I have to.

You see, I was trained as a construction manager and after working in the industry for several years, I began to feel unfulfilled.
I had a good job with great pay, but I knew that I wanted to be out in the field working with my hands.
That's when I got the idea to go out on my own and start a business. It was a risk and the road to building a thriving business was daunting, but I knew it would be worth it.
Now I love what I do and with my construction management background, I've developed a skill to fix just about anything!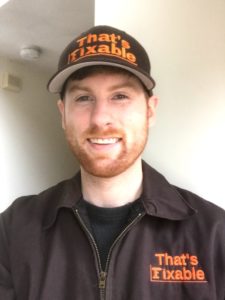 Here's How I Will Help You Save Time & Eliminate Stress
Have you ever wondered what it would be like to hire a professional that you trust completely in your home and around your family – one who cares about your home just as much as you do? I strive to be that professional. 
You can count on me to keep a spotless work area so it looks like no one was ever there and to provide quality work so your home looks its best.
My goal is to save you time on your home repairs so that you can have more time for the things that really matter.
I strive to create a service experience built on reliability so you can have peace of mind and clear communication so that you know when the work can be done, which will allow you to schedule your time more effectively.
I take pride in being able to take care of most home repairs and if I can't I'll find someone for you who can.
Call today for a FREE no-obligation quote.
(781) 218-9670
Sincerely,
Matt Perry
About
was last modified:
April 30th, 2020
by