If your laundry room is not more than the size of a closet, it can be difficult to find a space to keep your detergent, fabric softener, dryer sheets, etc.
A lot of people opt for shelves, but shelves can be lackluster and you have to see laundry products every time you walk by.
What I'm going to share with you in this post is a better solution to your laundry room storage issue.
The solution is built-in cabinets.
Not only do cabinets look better than shelves, but they also hide all your unsightly chemicals!
Laundry room cabinets are the storage solution of the future and you can get cabinets that don't break your budget either.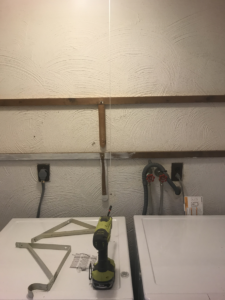 In this photo, I am removing the wooden shelf brackets from the wall being careful not to damage the wall. I used a small pry bar and hammer.
I then laid out the wall area by marking the stud locations and finding the center where both ends of each cabinet will meet.
It's worth mentioning to take your time with this step as it is the foundation for having your cabinets look nice when they're on the wall and so that they are held strong in place.
I marked out two studs per cabinet with a total of six screws per cabinet.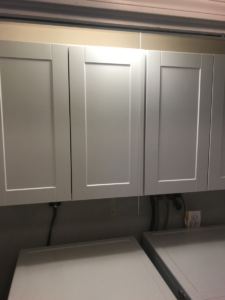 Here you can see, the laundry room just looks more complete and aesthetically pleasing with these cabinets.
What's more, each cabinet has two shelves so you can further keep an organized laundry room.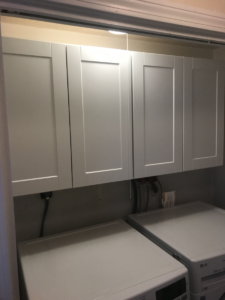 I hope this project sparked your interest in having cabinets installed in your laundry room. If so, I would be happy to help with your upgrade. Click the button below to get started!
Thanks for reading,
-Matt the handyman
A Clever Laundry Room Organizer Idea
was last modified:
April 23rd, 2022
by