While the list of repairs in your home – especially if you have an older home – is never-ending, you can rest assured we make an effort to try and write about the repairs that aren't so common.
This project lies somewhere in the middle – not too common, but also not way in left field where it has never been heard of before.
Today I'm going to share with you how to repair cracked or split glass in your french door.
In this case, the homeowner was trying to get their house ready to put on the market and with this being their front door, the crack was highly visible.
No need to call a glass repair company. A handyman can get this job done for you!
I started by assessing the repair and the size of the glass. The glass is a standard size in french doors, usually about 1 foot high by 6 inches wide.
Once I knew what size of glass to buy I then returned to the customer's home and began the demolition!
The best practice is to cover the face of the glass entirely with masking tape. This way when you punch out the glass, the fragments stick to the tape and don't go flying into your eye or elsewhere.
Once the bulk of the glass was removed, I used a small picking tool to clean out the groove that the lite was sitting in.
From there I used my multi-tool, which has a thin blade attachment with a serrated edge to cut along the trim pieces. I carefully did this because the trim was to be reused once a new lite was installed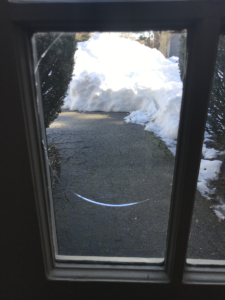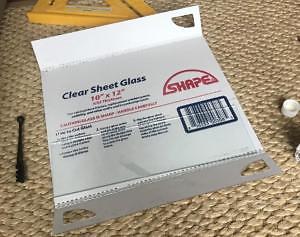 This is the packaging of the glass repair kit with instructions on the back showing you how to cut the glass.
The small black object on the left is a glass cutting tool. It has a small, sharp wheel on one end that scores the piece of glass and a weighted metal ball on the other end used to tap the glass so it fractures.
Once you do this, while holding the glass on either side of the scoreline, the glass snaps clean off. The cardboard also doubles as a flat surface to score the glass.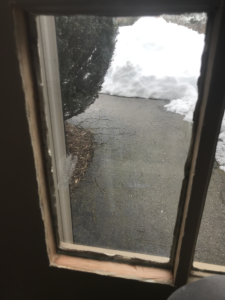 This photo shows the trim removed and the groove that the new piece of glass sits in.
I reinstalled the trim with a fresh bead of caulk to seal and fasten it. I didn't reattach the trim with brad nails because this was an old, brittle door and the brads would have blown out the door material from the other side.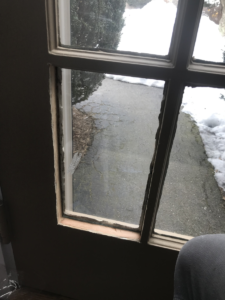 What's great about this project is that you don't have to replace your whole door!
I hope you enjoyed learning about this project. If you have split glass on your french door, don't hesitate to get it fixed – click the button below for your estimate!
Thanks for reading,
-Matt the handyman
How To Repair Split Glass In Your French Door
was last modified:
April 23rd, 2022
by