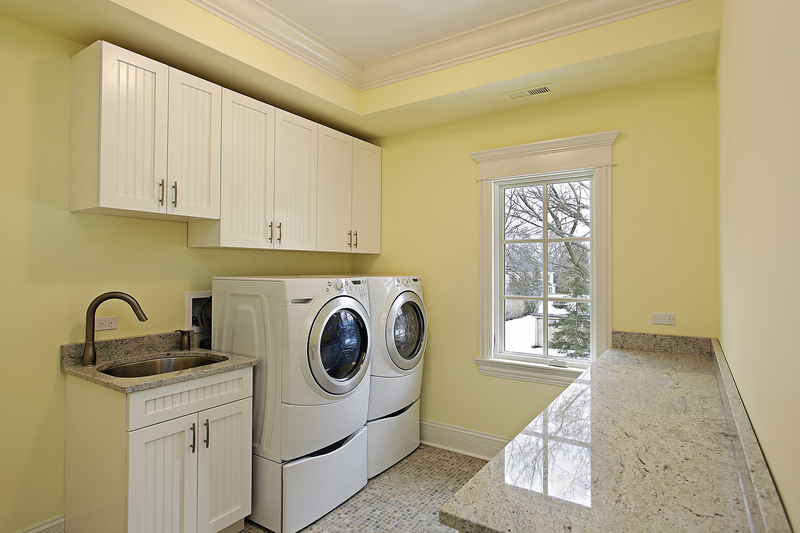 Many laundry rooms I've seen are bare-bones when it comes to storage solutions. Typically homeowners will have just a washer and dryer with a single shelf above to hold detergent, fabric softener, etc.
Most of the time, however, homeowners will have many items lying around that aren't neatly organized.
For most, the laundry room is used mainly for function vs having it look good.
In today's article, I'd like to discuss why installing cabinets in your laundry room will upgrade your space.
Why Organize The Laundry Room?
I can imagine that you like your home to be neat and organized.
Often, the laundry room is overlooked and various items are strewn about creating a disorganized space.
Sometimes, homeowners will have a floating shelf or two to keep the tops of their washer clutter-free.
I think a better look is to keep all chemicals and towels tucked away. This will help keep your mind clutter-free when you go to do laundry.
Additionally, if you have small kids running around, you don't want them to get into any chemicals. By keeping detergent and other harmful chemicals stowed away, you avoid accidents.
IKEA laundry room storage cabinets are the best solution I've seen that hit the mark for both function and form. They are good looking and can be customized so that you get exactly what you want.
How Much Space Do You Need?
It's important to clarify how much space you actually need. Take stock of what belongings are clogging up your laundry room and throw away anything you don't need.
I think it's a good idea to get cabinets that create a little more space than you currently need. This way, you can grow into them in the future if necessary. What I love about IKEA hanging cabinets is that they are so customizable.
No matter what configuration of washer/dryer you have, the pros at IKEA can work with you to design a beautiful cabinet system.
By attaching cabinets to the wall, the space in your laundry room is better utilized.
All the laundry products can be moved off your washer/dryer units and stowed away cleaning up space.
If you've got the space, another option is floor-mounted cabinets. In your case, it may be easier to bend down vs reaching up to get the things you need.
Your Style
What look are you going for with your storage cabinets? Do you like a modern clean look?
Maybe white is the option for you. Another popular look is gray, faceless cabinets.
Whatever your style is, it's important to identify what looks best to you. Maybe you want to match the rest of the cabinets in your home.
If you need ideas, check out the website below and get to designing the laundry room of your dreams.
Hopefully, you found this article helpful and it got you to think about what your storage goals are for your laundry room. If you need help deciding how to upgrade your space or have cabinets ready to be installed I can help!
Click the button below and submit a service request today to enhance the look and functionality of your laundry room.
Upgrade Your Laundry Room Storage With Cabinets
was last modified:
April 23rd, 2022
by