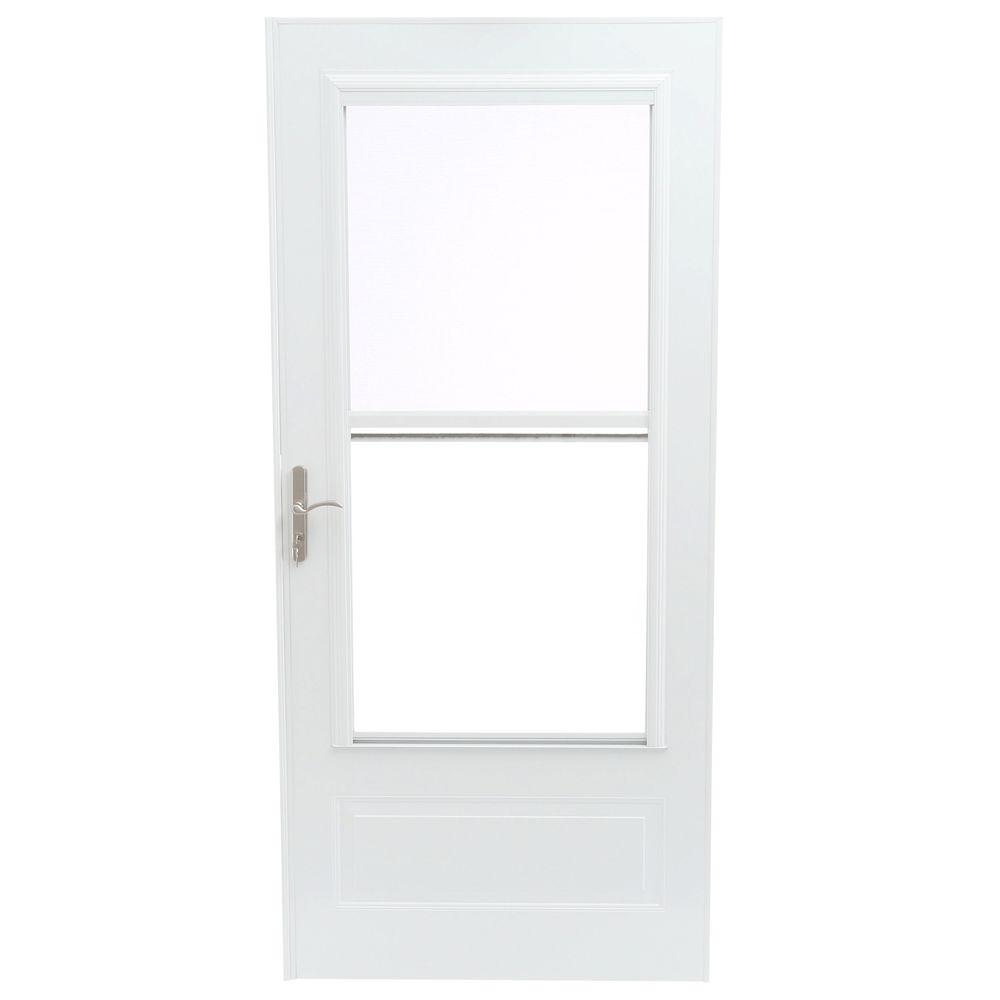 There are many great storm doors to choose from out there, but my favorite is the EMCO storm door. In particular, I love the 400 series.
An EMCO storm door is a great upgrade to your home. Not only does it look nice but, it's highly functional.
You can use a storm door to create a nice cross breeze in your home during the warmer months.
Most storm doors give you the option to swap out the glass with a screen insert.
Some doors are easier than others to do this and that's one of the reasons why I love the EMCO storm door. Switching between glass and screen has never been easier.
Today I'd like to talk about some of this door's key features and what sets it apart from the crowd.
Features & Benefits
From my standpoint, this door is relatively easy to install and I'm sure most pros will agree. EMCO designs their doors to make the installation as simple as possible.
Its got a sturdy frame that will hold up to wind and rain, but it's still fairly light so you don't break your back pulling it open.
The door closers glide smoothly and are easily adjusted so the door closes to your liking.
It comes in a variety of colors as well.
I see homeowners mostly opting for white, but I have installed bronze, black, and almond.
Everything you need comes ready in the box. The energy efficiency is great. It comes with a door sweep so you don't have to worry about having a large gap under your door.
In fact, the frame that the door sits in has weatherstripping running around it as well as the door itself. This way you get a double layer of draft protection making your home more energy-efficient.
EMCO describes this type of door as "self-storing" which means that you get a retractable insect screen that rolls up into the top part of the door.
That means you don't have to keep a separate screen insert in the basement and have to deal with the hassle of swapping it out in the summer.
There is a simple latch that holds up the glass portion of the door which sits at the top.
When you want the screen, simply pull down the latch and in seconds you can enjoy a nice cross breeze.
Another great feature from a security standpoint is that you can get the handle lock rekeyed to match the locks on the rest of your house. This allows you to have fewer keys meaning less headache!
Additionally, the glass on the door is thermally tempered which is stronger than regular glass. You'll experience greater peace of mind knowing that your home's entry points are secure.
How To Get A Storm Door Installed
This is hands down my favorite door to install and it even is universal meaning it can be installed to fit a left-handed or right-handed door. This will make it easier for your home repair professional to pick up the right door.
If you're handy, you can even measure your door to get the correct size. This will streamline the process for you. Your handyman will only have to come out once to install it for you.
Measuring Your Door
If you decide to measure yourself, I've provided some quick tips to get accurate measurements.
First, measure the width of your existing door. I like to measure the door width at three locations – at the top, middle, and bottom.
This way I can be sure I'm being accurate because oftentimes you'll get slight variations of width at each point.
Once you have all three measurements, choose the smallest one.
Second, measure the door height. I measure at two locations both left and right and choose the smallest one.
A standard entry door is 36 inches wide x 80 inches high, but yours maybe 30 or 32 inches wide.
Repeat these two steps for the inside of the door jamb.
Measure from one side of the inside door jamb to the other at three points for the width and two points for the height. Again, take the smallest for each.
The door jamb width and height will be slightly larger because they need to be to allow for the door to fit in. At this point, you'll have a good idea of what size door you'll need.
Ordering (Option 1)
If you feel comfortable enough, you can order it online at homedepot.com. What's great is that home depot stocks these in store so there's no waiting 3-4 weeks to get your storm door installed! It should be ready for pick up within the next business day.
Call up your handyman and tell him or her that you ordered an EMCO 400 series door. They'll pick it up for you, deliver it, and install it.
This is a pretty common installation so you can expect to pay a flat fee of around $150.
Doing it this way saves you time and your handyman can come out just once to install for you.
Ordering (Option 2)
A second option is to call your handyman first and explain that you want the EMCO 400 series.
You can mention it is a universal door if they don't already know and tell them the measurements. They can check the door's availability at the nearest Home Depot and schedule a day to install.
This might be the quicker option because it bypasses having to order online which even though the store has it in stock the store associates may not receive the order right away.
If you don't feel fully confident in taking the measurements yourself, your handyman will be more than happy to come out and take them for you.
Depending on their availability, they may be able to do all of that on the same day because taking the actual measurements is quick.
They can swing by your house for the measurements, go pick up the door, and have it installed within 2 hours. Yes, that's all it takes to install!
I hope this article helped you to learn about the process of getting a storm door installed on your home and why the EMCO 400 series storm door is a great product.
If you're looking to get a storm door installed or if you'd like to upgrade your existing storm door I'd be happy to help!
If you're looking to replace, I offer a hauling service where I'll take your existing door and dispose of it for you. Call today!
Matthew Perry
Handyman Professional
(734) 418-8237
Product Review: EMCO 400 Series Storm Door
was last modified:
August 16th, 2021
by